Spot and short-term contracts:
National demand increased throughout October by 1.3%, in comparison to October last year (2022). 50.7% of total energy produced in October came from renewable production and generated 25.5% (10.609 GWh) more than last year. Only wind energy production increased by 15.4% set against October 2022. Besides, 69.8% of the total energy produced in October came from non-CO2 emission.
The Spanish electricity market experienced significant price volatility during October. There was a large contrast between the highest value reached 141 €/MWh and the lowest of 5 €/MWh. The average price declined to 86 €/MWh from 103 €/MWh in September. In terms of m-o-m comparison, September-October had a 16% decrease. The reduction of the annual inflation on the eurozone might have had an impact on m-o-m decrease, from 4.9% to 2.9%, respectively. Furthermore, as described below [PH6] gas price increased m-o-m, showing the strength of the impact coming from renewable generation sources.
As shown in figure 1, the highest price reached in October was like the values registered in January 2023, the same applies to the lowest value of the month. Below, we see the average, maximum, and smallest price is depleted, including m-o-m flows in percentage.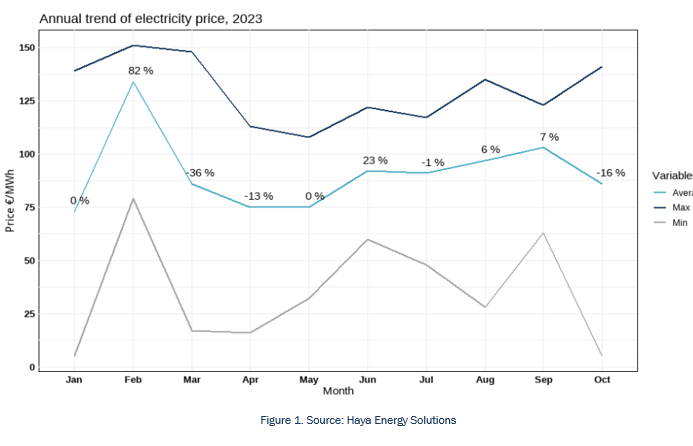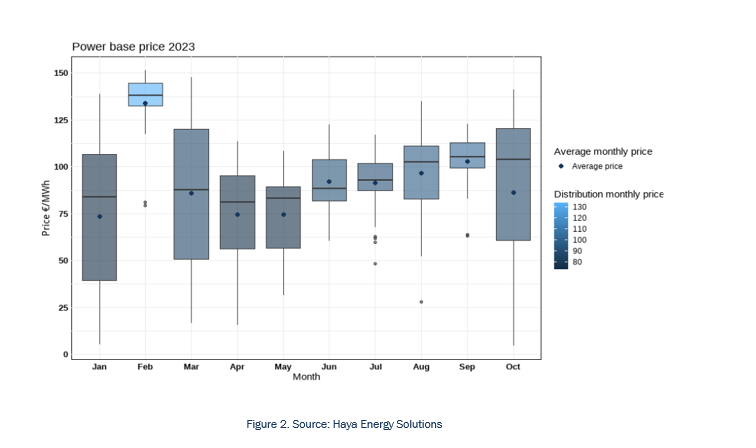 The general insight of the daily values reached per month in 2023 (Figure 2) shows an overall increase during the last quarter of year. Despite the hints of an increasing trend of the average price in the end of September, October lowered the average price to 83 €/MWh. Nevertheless, the monthly distribution was wider during October in comparison to previous months, and October's monthly median stayed above 100 €/MWh. Larger volatility was seen on energy price during October due to couple of incidents: OPEC (Organization of the Petroleum Exporting Countries) reached limits and diminished its spare capacity; Israel-Hamas conflict which altered the rise of oil prices a 7% within the same week. These are important causes for energy prices to rise, including the increase of national power demand [PH5].
Total electricity demand in Spain amounted from 19.7 TWh in September to 19.8 TWh in October. With regards to power generation typology, the technologies with the highest participation in the mix in October were nuclear 18%, CCGTs 19%, and wind 28%. All the power generation technologies remained at similar levels as September, with only wind (11%) and hydraulic (3%) power generation higher than the previous month.
[PH1] The LCOE (Levelized Cost of Electricity) of renewable generation technologies has experienced a potent drop, pushing forward the process of energy transition. In terms of investment, this downward trend encourages investors to increase its implementation. Renewable energy production generated 50.71% of the total energy production of the month, higher in comparison with the 42.1% of renewable generated during September. This slight increase seems to be influenced by the increase of wind power generation in October. In turn, this type of generation has been pushed by the weather conditions (storms) that occurred in Spain in the last weeks of October.
As for the Spanish gas market (MIBGAS), a slight increase was seen in the average price for October, at 42.2 €/MWh compared to 36.4 €/MWh registered in September, with the highest price of 51.3 €/MWh compared to September's at 42.5 €/MWh. At the end of October, the European gas storage was filled up to 99.31% of capacity and Spain an estimation of 100.42% was given.
Regarding CO2 emissions, the EUA Spot contract decreased from 82.2 €/t in September to 80.9 €/t in October. This is described as a cause of a weakened manufacturing sector in the Eurozone, concerning a decrease in EUA demand.
In the case of oil, Brent prices increased from 80.4 $/bbl  in September to 88.5 $/bbl. In addition to the mentioned above [PH4], the effects of a decrease of production in Saudi Arabia and Russia these months made the highest price to reach 92.38$/bbl on the 19th of October.
Medium and long-term contracts:
With regards to electricity futures (OMIP), during October prices fluctuated more than in September. The estimation of energy price for Q124 in October expressed a higher average value of 115.99 €/MWh, compared to the previous month of 113.8 €/MWh. In the case of Q224, prices are towards a mean value of 96.91 €/MWh.
Cal'24 contract prices showed a consistent increase in comparison to September, reaching 115.91 €/MWh compared to 108.3 €/MWh in September. Moreover, Cal'25 prices rose during October and reached 93 €/MWh from the 84.1 €/MWh reached in September.
In the case of MIBGas contracts, futures were traded at 50.95 €/MWh in October increasing from 42 €/MWh in September on last forecast for Q423. As for Cal'24, the contract closed the month at an average price of 50.2 €/MWh, increasing from 49.3 €/MWh in September. Concerning future gas prices, the awareness of the provision due to the labor conflicts in Australian plants are still present, with renewed strikes reviving the risk of gas supply. Regarding supply from Norway, once the maintenance period was over, it at once affected the gas price in Europe. However, gas prices were mainly altered due to the conflict of Israel-Hamas, since Egypt uses Israeli gas, to meet domestic demand and to export partially to Europe. Even though it is only a small proportion, it is still a threat for energy markets because it can affect the transport of crude oil and LNG through Persian Gulf.
To conclude with CO2, EUADec'23, Dec'24, and Dec'25 contracts showed a slight decrease and closed October with an average price of around €81.5/t, €85.5/t, and €89.3/t, respectively. It is expected that prices will be far from where CO2 EU ETS were initially estimated for 2025. A yearly 4.3% decrease from 2024-2027 will drop out the market supply. In addition, a new European Commission will be in place by the end of 2024, probably carrying changes and increasing ambiguity regarding this CO2 EU ETS market until then. A revision of the ETS directive was launched by the European commission with the idea of improving market monitoring. Relevant to energy and ETS, new amendments related to the transparency and the integrity of the carbon market were introduced, including obligation to register in the Union register of bilateral emissions allowance transactions.
SP Baseload Power price (€/MWh)
SP Peak load Power price (€/MWh)
Gas vs. Coal Price (€/MWh)
Clean Spark Spread – Baseload (€/MWh)
Clean Spark Spread – Peak load (€/MWh)
Clean Dark Spread – Baseload (€/MWh)
Clean Dark Spread – Peak load (€/MWh)