Coal, emblem of the 19th century and an already distant industrial revolution, belongs definitively to the past. Its disappearance is being recorded everywhere, and it's only a question of closing polluting coal-fired power stations and replacing them with other renewable, cleaner energies.
And yet… coal is still not quite 'historic and picturesque', buried in heaps in northern France, an area declared UNESCO World Heritage site in 2012. Coal is not dead – far from it – and it's even shaking the energy markets.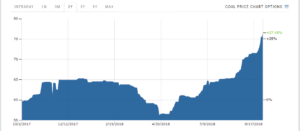 Indeed, the price of coal continues climbing, even reaching its highest level in nearly 6 years now. Contrary to the current progression of fuel mix and declarations of ecological intents, the price of coal is increasing, and, together with a rising carbon price, the dark spread is expanding its empire across energy markets…
From a difficult exit…
On 20 April 2017, the press was running headlines on the first coal-free day in the UK's electricity mix in 135 years. Ahead of the implementation of new European environmental standards in 2021, and in the light of rising carbon costs and falling renewable energy costs, electricity producers are steering away from coal. Most surprisingly, however, is that mining companies are following suit: Think BHP, the Anglo-Australian coal giant who, in spring, walked out and slammed the door on… the World Coal Association! Deeming the lobby too climate-change-sceptical, BHP decided to withdraw from thermal coal. This departure was soon followed by that of another giant, Rio Tinto, who likewise turned away from thermal coal. One could think that it's a conclusive disenchantment.
However, the reality of the market remains quite different: in Europe, coal-fired power stations continue to provide the marginal MW, which sets the price of electricity. The price of electricity remains strongly correlated with that of the API#2 index.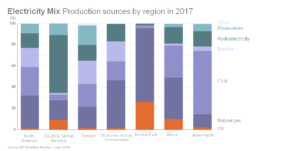 Although, and according to Carbon Tracker, European coal-fired power plants operators could lose 22 billion euros in Europe between now and 2030, (with German operators accounting for one third of these losses – 7 billion -, and the Poles, 3 billion), only seven countries in the European Union have planned to renounce  to coal-generated electricity by 2030 (the United Kingdom, France, Italy, the Netherlands, Denmark, Finland and Portugal), which hardly accounts for 27% of the total installed coal-fired power generation capacity. Poland is refusing to do this, as is Spain, which has paid 400 million euros so that its coal power stations can install filters (considered an unfair competitive advantage by the European Commission).
Even in Germany, which urgently needs to abandon coal if it wants to deliver on its commitment to reduce CO2 emissions by 40% between now and 2020, coal and lignite still provide for 36% of the country's electricity production. The 'Coal Commission' is working towards this exit: it should release its first analyses as early as autumn this year, but these are already under attack by RWE.
In Europe, the sector still seems to hope that some coal-fired power plants closures among competitors will drive up electricity prices; above all, it's counting on the support of the States.
In the United States, despite Trump's vote-seeking decision to undo his predecessor's 'Green Power Plan' and suspend the Federal CO2 emission limits, coal mining does not appear to need to start back up in the face of cheap extraction of shale gas. However, again, coal power stations are often the forces that set the marginal price of electricity.
… to a paradoxical resurgence…
Since the end of 2015 and COP21 in Paris, coal has certainly been the subject of much criticism, even large-scale disinvestment campaigns, and being designated 'climate enemy number one'; nevertheless, this fuel remains by far the primary source of electricity across the globe, accounting for 38% of the world's electricity production, the same share as that in… 1998!
So, first of all, there was a recovery in primary energy consumption pushing up the price of coal. Then, a localised demand in the Asia-Pacific region, which, today, accounts for three quarters of the global demand – as opposed to 50% fifteen years ago – owing to economic development and soaring population growth. According to the IEA, the International Energy Agency, the planet is expected to consume more than 5.5 billion tonnes of coal by 2021. Among all of the fossil fuels, dark matter is indeed the most abundant and remains the least expensive.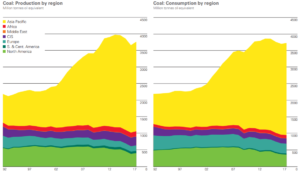 Figure 2World coal production and consumption in million tonnes of oil equivalent (Source: bp-stats-review-2018-full-report)
BP also reminds us in its 2018 Statistical Review of World Energy that the fleet of coal-fired power stations is young: nearly half of the electrical capacities of this fleet has been built over the past 12 years, and many new facilities are still being planned or under consideration, particularly in South-East Asia. Therefore, these power stations could still be in service in 2050, in the absence of any policies accelerating their closure.
… before a market turning point?
There has thus been a rise in coal prices, spurred by demand, but today, this increase is accompanied by a paradigm shift in the market: since 2014, global coal production had been in decline, but it's been back on the rise since last year, and strains on stocks have eased.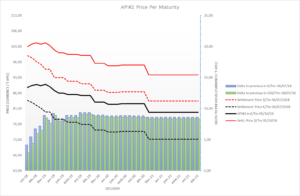 The coal market, which was characterised for many years by its backwardation (short-term prices distinctly higher than long-term prices), is in the process of making a correction. The trend remains bullish, but there is a short-term stagnation, where prices are rising for longer maturities. This is a strong sign that (i) production has sufficiently increased to secure winter supplies and (ii) uncertainties over supply in the years to come are growing.
A paradigm shift and a flatter price curve which, in the event of a warm winter and in accordance with the policy adopted by China, could quickly lead to a downturn in the coal market, leading to a contango situation. Coal, which we'd given up for dead in a world committed to battling global warming, hasn't finished reinventing itself and setting the markets ablaze…
Jean-Charles Bissié