Once again, we stand on the threshold of winter and actors and consumers are beginning to inquire about energy supply in Europe.
This year, unlike the past, there seems to be no major concern; prices remain high but not historically high. However, while there are no alarm signals for this winter, there is a fragile balance between demand and supply that could at any moment break down, causing electricity prices to surge.
In particular, one of the key pieces of the supply in Europe is French nuclear generation. At this moment[1], EDF forecasts that around 52.8 GW of nuclear power will be available in France during the coldest months of the winter season[2]. Knowing EDF's optimism, one must wonder: to what extent is there truly no supply risk?
In this article, we attempt to answer this question.
Energy situation in Europe
Let us first analyze the energy situation in Europe: on the one hand, gas storages are at their highest level for this time of year in the last 5 years, and despite the increasing Asian demand for LNG, supply seems to be secured for this winter. Hydroelectric reserves in Europe are also at higher levels  than a year ago, and the forecast for the availability of the French nuclear fleet, which is crucial for the stability of electricity supply in Western Europe, is close to the highest levels in recent years.
On the other hand, altought supply seems assured for current forecasts, there is still a risk of prices' increase in the event of higher demand, whether due to a colder than normal winter  or to an upturn in industrial activity. Leaving aside international conflicts that could once again disrupt all forecasts, European energy security this winter depends on a delicate balance and we are likely to see moments of high price volatility.
Nuclear availability in France

Regarding the availability of the French nuclear fleet, we have not seen such a high forecast of nuclear availability since 2019, with almost 86 % of the nuclear capacity expected to be available (52.8 GW) during the coldest months of winter. This figure represents nearly 12 % of the total installed capacity in Western Europe, and analysts often forget the weight it has in the European market. However, as we have previously discussed in earlier publications [see Newsletter: Nuclear energy in France: a challenge ahead], EDF's forecasts are, at best, optimistic.
The Nuclear Tracker software, developed by Haya Energy Solutions' experts, tracks the availability of the French nuclear fleet which is valuable for predicting and understanding market reactions – available in our website: nuclear-tracker. Thanks to this tool, we can analyze the historical forecasts and note that the forecasts for the coldest months at the beginning of the winter season (November 1st) have been, on average,  14 % higher than the reality, resulting in an average difference of -7.6 GW.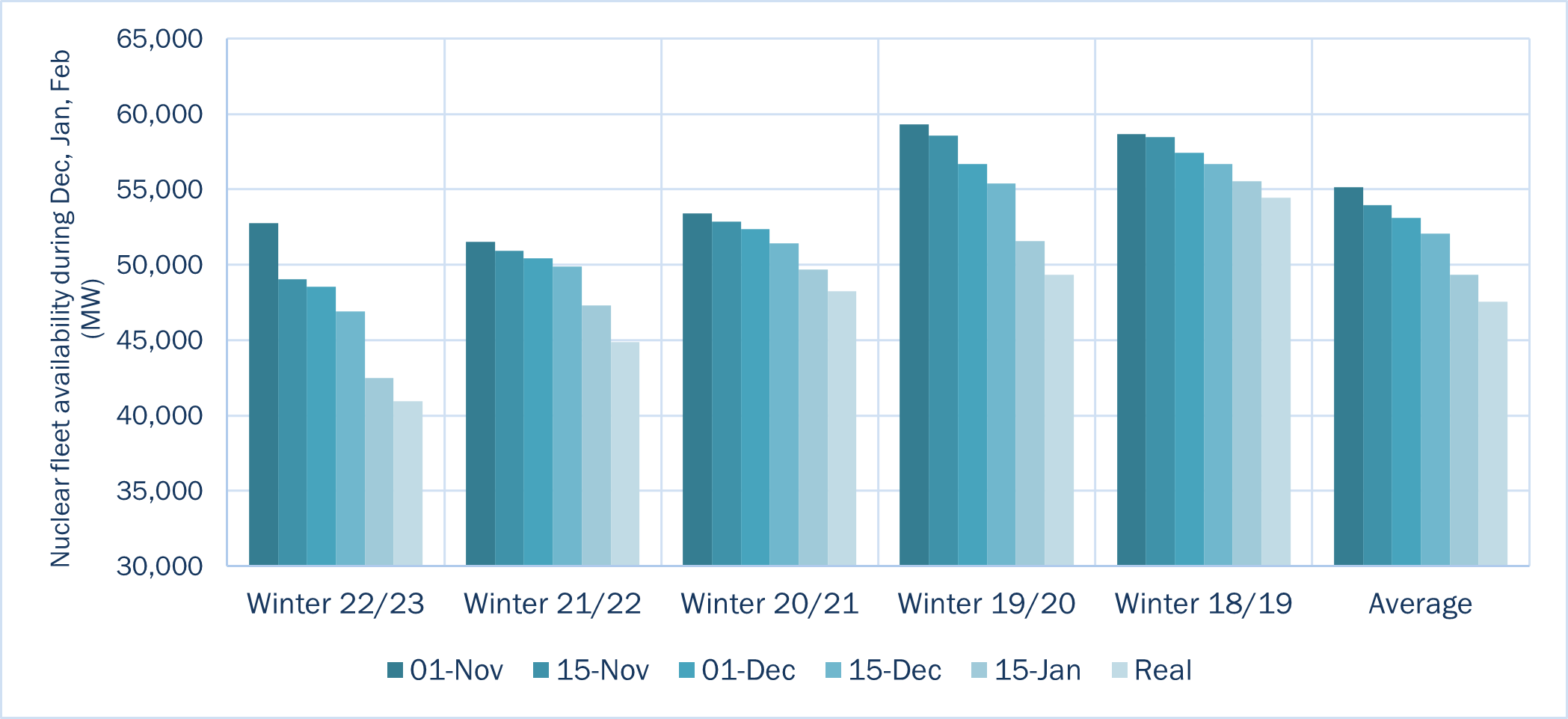 These differences can be explained by two main factors:
Delays in the commissioning of the plants after maintenance periods: multiple incidents related to new issues encountered during the course of the work.
Forced unavailabilities that cannot be anticipated which statistically have a minor impact.
As can be seen in the graph below, generated through Nuclear Tracker, EDF expects that up to 15 GW will return to operation during the upcoming winter, which poses a substantial risk in case of delays or issues.

If the trend observed in the past continues, i.e. above-average forecasts, the current availability of 52.8 GW would decrease to 45.4 GW. This reduction of 7.4 GW would have a negative impact on the delicate balance mentioned in previous paragraphs, undoubtedly leading to significant price volatility in response to an increase in energy demand.
In any case, we recommend that actors of the sector closely monitor the evolution of EDF's forecasts for the French nuclear fleet as we anticipate downward adjustments in the coming weeks. Through our Nuclear Tracker tool – available in our website: nuclear-tracker – you can follow the weekly evolution of nuclear availability, providing a simple but precise view of how EDF updates its availability forecasts.
[1] Forecast as of November 1, 2023
[2] December, January and February.
Manuel Domínguez León