"Master of the Kremlin", as Vladimir Putin is often referred to, is certainly a master in the use of the bludgeon… but he is also a giant with feet of clay. So, what can we say about the energy consequences of the crisis currently being orchestrated around Ukraine in France and, more widely, in Europe?
Russia, still the world's second largest military power, equipped with atomic weapons and other hypersonic missiles, is looking back at its past with nostalgia. Didn't Putin say in 2005 that the fall of the USSR was the greatest geopolitical catastrophe of the 20th century? But Russia, with its 140 million inhabitants, is only the world´s 12th largest economy, with a GDP equal to 50% of that of France, at a level comparable to that of Australia or Brazil…
As the world's third largest producer of oil and natural gas, the sixth largest producer of coal and, most importantly, the second exporter of oil and an the first exporter of natural gas and coal, Russia is extremely dependent on  its natural resource exports, which it could hardly risk undermining.
The terms of this equation are therefore clear, and Europe's dependence on imports of Russian gas and oil products should be compared to Russia's dependence on Europe.
The above introduction was already written on 24 February, before Vladimir Putin launched his invasion of Ukraine… but while the rest of the article was going to be based on the assumption of a rational approach by Putin and his circle, the events of the last 2 weeks have completely reshuffled the cards!
Where do we stand?
With a relentless sense of timing, Putin waited until the day after the closing of the Beijing Olympics on Sunday 20 February to launch his diabolical process – so as not to offend his objective ally against the West, Xi Jinping: announcing the recognition of the Donetsk and Lugansk "people's republics" as early as Monday 21, signing friendship, cooperation and assistance agreements in the aftermath, and announcing the dispatch of Russian "peacekeeping" forces… still seemingly "rational" chess moves, which some cynics, like Trump, have called "genius"!
But then, overcome without any dout by the memory and hatred of the Ukrainian revolution of 2014 (Maïdan revolution), which had culminated with the removal of the pro-Russian president Yanukovych on 22 February 2014, and his flight to Russia on 23 February, Putin could no longer hold back from wanting to overthrow by force the pro-European government that has been ruling Ukraine ever since – and which, in his eyes, represents a very bad example for his own people, who have been subjected to dictatorships of all kinds, without interruption, since the dawn of time… the tsars, the Soviet leaders, and now the "little" tsar Putin.
His speech announcing the invasion of Ukraine on Thursday 24 February at dawn was the kick-off to events not seen in Europe since 1945: an unleashing of blind military violence against Ukrainian civilians with a surrealist pretext ("denazification" of Ukraine, end of genocide in the Donbass…).
A new global era had just begun, but the West – Europe and the United States – showed a determination that must have surprised Putin: unprecedented economic and financial sanctions on Russia, breaking-off of banking, air, sea and cultural relations, etc.
And Putin is certainly on a race against time: the "raspoutitsa" (the season of the bad roads – due to melting snow or autumn rains normally happening in mid-March) has already played bad tricks on other famous invaders such as Napoleon or Hitler! Only a few weeks are left before seeing the Russian tanks completely stuck in the mud…
What about energy?
Chancellor Scholz, compelled and forced, announced on 23 February the suspension of the certification process for the Nord Stream 2 gas pipeline, part of a first set of European sanctions following the sending of Russian troops into the Donbass. This was without imagining what would follow, with the invasion of the whole of Ukraine launched the next morning!
The Swiss company managing Nord Stream 2 filed for bankruptcy on 1 March, all its employees were laid off… but more than a week after the start of the invasion of Ukraine, Russian gas continues to arrive in Europe: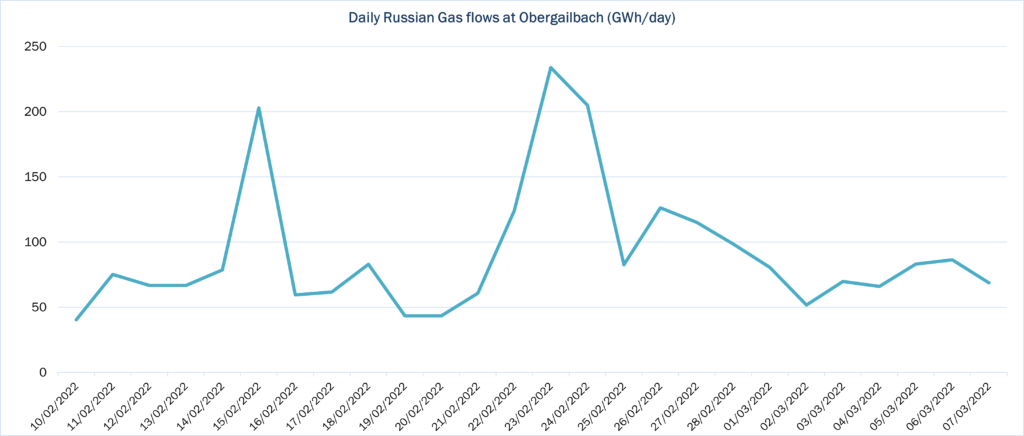 It should be noted that Russian gas flows had already fallen sharply over the past year, triggering a rise in gas prices in Europe – and helping to fill Russia's coffers with foreign currency…

What does this mean?
Despite the current outburst of madness, some elements in Russia are still behaving rationally. And for good reason: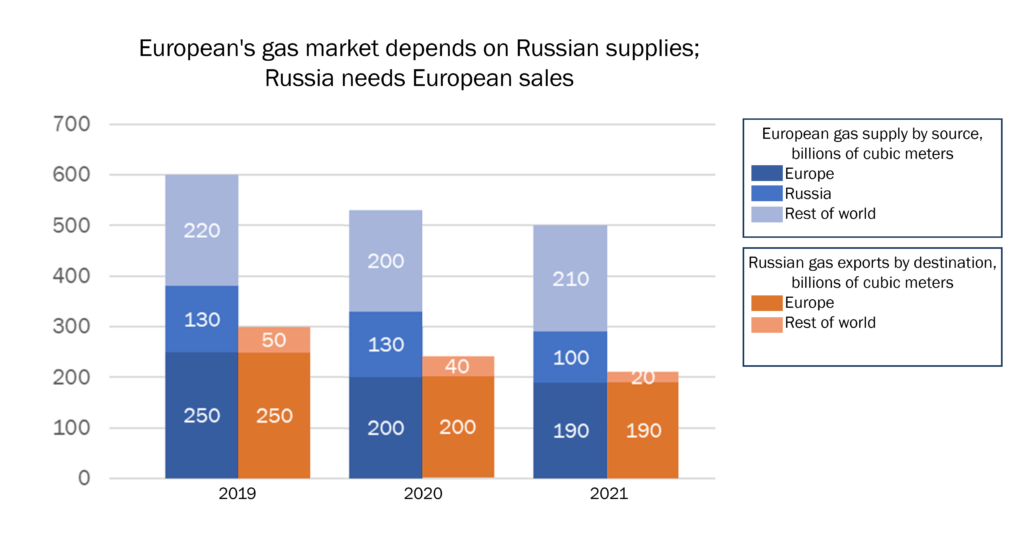 How long will this last? Unfortunately, with the banking sanctions against Russian companies, payments for Russian gas purchases will soon dry up. Why should Gazprom continue to deliver to Europe? For now, Sberbank and Gazprombank, the two banks most involved in Russia's energy exports, have been spared exclusion from the Swift system by the Europeans… but for how long?
Two – extreme – scenarios have now become likely: either Putin manages to accomplish his fatal plan, reducing Ukraine to his feet, or Ukraine manages to resist, and the Russian army withdraws, bogged down, derided by the incompetence of its command, the unpredictability of its logistics, etc.
The verdict is expected to come fairly soon – a matter of a few weeks at the most.
The second case, more pleasing to the West on the surface, could unfortunately lead to internal destabilisation in Russia, a civil war, with unpredictable consequences.
As for energy – and all the commodities that Russia exports so much, such as wheat, fertilisers, certain metals, etc. – the two scenarios unfortunately coincide: the West, and Europe in particular, is at great risk of falling into a world without Russian gas and oil for a long time.
This is what the markets are anticipating, which have pushd oil to nearly $120 a barrel – levels not seen since 2014 – and especially gas in Europe to more than €200/MWh on 4 March – i.e., in oil equivalent a mind-boggling $380 a barrel at the current €/$ exchange rate!
At such levels, gas consumption in Europe will fall sharply. While the residential and services sectors will remain "protected" for some time, industrial and power generation uses will be seriously challenged. In France, as in Germany, for example, the breakdown between the use of natural gas in the residential/services sector, industry and the production of electricity and heat is fairly similar: around 50%-25%-25%. Therefore, there is a high risk that gas will be eliminated in the industrial sector and pushed out from electricity production by coal and the non-closure of nuclear power plants.
Other measures, such as those just proposed by the IEA, could reduce Europe's dependence on Russian gas by a third in one year: accessing other sources of supply, replacing long-term contracts with Gazprom which are about to expire, accelerating the development of renewable energies, energy savings for heating byreducing the temperature below the 22°C currently observed on average in Europe… If the end of this year´s winter were to be negotiated without too many problems, the winter of 2022-2023 is likely to be very difficult
Regarding the use of other sources of supply, the solutions are unfortunately rather limited. Some additional import volumes by pipeline from Norway, Azerbaijan or even Algeria could be made available, but they would be small, and an increase in LNG imports, even at current prices, would again be out of all proportion to the disappearance of Russian imports, if it were to happen.
Qatar has signalled its willingness to help Europe but, as it is already producing at maximum capacity, the scope for increased exports to Europe is limited by its long-term contracts with customers in Asia. Similarly, US LNG exports have rebounded strongly from the Covid-19 crisis, and are close to capacity – and some voices are beginning to be raised in the US about the effect of increased LNG exports on domestic natural gas prices: Henry Hub has risen by 20-30% since mid-2021, contributing to the inflationary push in the US. And, in any case, Europe's import and regasification capacity is limited.
In the longer term, after having resurrected NATO and European unity and led to a global geopolitical awareness of an unavoidable confrontation between dictatorships and democratic regimes, Putin could encourage a profound energy transition! Nuclear power has already regained public favour, and with regard to fossil fuels, primarily gas, soaring prices make bio-based alternatives economical. With market prices sustainably exceeding 80-100 €/MWh, biogas/biomethane is becoming quite competitive, as is green hydrogen, with the potential to replace all Russian gas imports by 2040.
And in the meantime, under the pressure of extremely high prices, energy "sobriety" will become the order of the day. A small consolation, which in no way excuses Putin's unacceptable behaviour.
Philippe Lamboley